Calling all DIY creative artists and enthusiasts, there is an amazing event coming to Mississauga to pique your interest. 
Canada's largest DIY festival dedicated to the creative arts of sewing, knitting, beading, spinning, weaving, felting, quilting, crocheting, stitching, scrapbooking, crafting and other fiber, textile, needle, equipment, and paper arts is coming to Mississauga this week. Aptly named the Creativ Festival, you'll get your chance to explore some of the arts and crafts you know and love.
What to expect at the Creativ Festival?
The festival will be showcasing some of the biggest and best names in the world of arts and crafts. Some of the names that you can look forward to include Brother International, Nortel Manufacturing and Husqvarna Viking Canada to name a few. If you're someone that may not be exposed to the world of arts and crafts, don't worry as there are a wide array of classes you can take. Some of the classes you can take might include knitting your first sweater, creating glass beads, and designing incredible chalk art to name a few (as there are a wide variety of different classes to explore).
[Related: Lakeshore Art Trail Being Celebrated – Oct 19-20]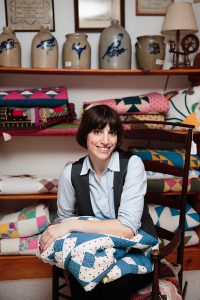 Additionally, the featured guest at the event this year is Mary Fons. For those who may not be aware of Mary, she is the editor-in-chief of Quiltfolk magazine. She also specializes in the history of the American quilt and the life of quilts in popular culture.She has hosted nearly 250 episodes of quilting how-to programming on television and YouTube.  Currently, Mary is at work on a 10-part docuseries exploring the untold history of American quilts. 
[See Also: Fun Free Ways To Enjoy Parental Leave]   
When: October 17th to October 19th, from  9:00 AM – 6:00 PM on October 17th – 18th and 9:00 AM to 5:00 PM on October 19th.
Where: International Centre – Entrance 5, 6900 Airport Road
Cost:
 For those of you who are interested in getting tickets in advance, just click here.